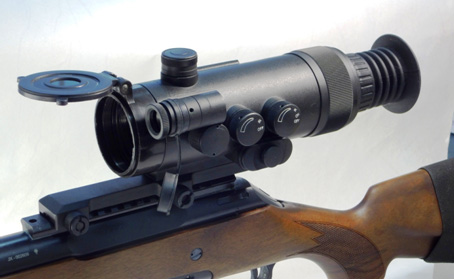 The hunting sight of night vision D161, as well as all sights made by SPF"Dipol", is made in the case from aviation alloys of aluminium that provides durability, reliability and simplicity in operation. The design of the sight provides stable position of the aim mark at shock loadings up to 500G, that corresponds to a cartridge .300 Weatherby Magnum with initial bullet energy of 5920 joules. The opportunity of application of various types of fastening rods allows to adapt it on the majority of the hunting weapons. It has an optimum parity of the price and quality.

SPF "Dipol" Ltd. was founded in 1990 by the scientific employees who were experts in the field of optoelectronic engineering. That determined the policy of the firm in development and manufacture of night vision devices. Image intensifier tubes of high-quality and specially developed high aperture optics are used in the devices. Much attention is paid to ergonomics and design. With the purpose of giving durability and high reliability light alloys of aviation aluminium are applied to manufacturing of the devices. The manufactured production can satisfy needs and requirements not only of amateurs but also professionals as for its quality and its price.

Specifications:

Lenses, focal length, mm F80
Magnification, X 4 (2,5)
Angle of vision, degree 9 (11)
Focus limit, m 5 ... ∞
Diopter adjustment, dptr ± 5
Allowance scale value, mm
- 50 m 15
- 100 m 30
Allowance range, m
- 50 m ± 1
- 100 m ± 2
Type of aim mark Projection
Type of fastening by order
Limit load impact, g 500
Power supply (type of batteries) CR123A-Lithium
Operating time (without IR, +20°C), hour 36
Range of detection (object 0,5x1,8m; light exposure 5x10-3lux), gen.2+/gen.3, m 200
Temperature range of work, °C -10...+50
Degree of protection according to IEC 60529 IPx4
Dimensions, mm 250x87x116
Weight, kg 1,0.

You can also order this scope equipped with the mount AK/SKS,SVD.

Delivery set:
Dipol D161 night vision scope,
Nylon carrying case,
Battery, CR123A Lithium,
Operation manual.

Extra accessories are available on request:
The Laser (90 mW).

you can order them here